Good News: My spinach and greens, well actually most everything in the garden, is taking off -
Bad News: My swiss chard languishes in the Sun and doesn't keep in the fridge...
If you have any suggestions for getting my chard to perk up, please let me know. It isn't for a lack of water.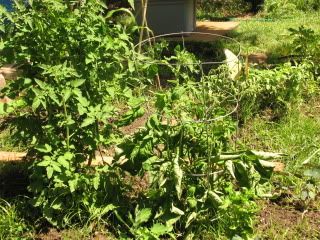 Good news: My tomatoes are about five feet high
Bad news: My brandywine's largest leaves are curling, and it doesn't look like it'll be very prolific:
Let me know if you think I should plant another tomato to take its place... Will it produce early and then die, or keep producing through the Summer?
Good news: Our potted walnuts, babies from our 65 foot tree, look really great!
Bad news: Nobody wants them :( I've tried posting them to Craigslist, but I get the impression that the only people asking about them wanted dozens. Maybe next year...
If you are interested in a walnut tree, please let me know.
Good news: The mound for my corn, beans, and squash doesn't seem to have been infected by the wilt that got my zucchini -
Bad news: The bush peas I planted have given maybe 10 peas, and they don't look like they'll do much more...
Good news: that zucchini I tried to save has rooted somethin' fierce, and I'll be planting it in a pot with soil from the store -
Bad news: ... none, I hope.